Queen Bee's Royal Hair Gallery stands in solidarity against racism and the abuse of power that has been impressed upon Black Americans.
As an Black Owned Business, we understand that we must stand in unity and action to push for change in America that allows everyone to enjoy the freedoms that our Constitution promised to us.
OUR DESIGN TEAM

The Queen Bee's Design Team consists of stylists that take pride in meeting the standards and needs of every kind of client. We specialize in all areas of professional hair care, including natural styling, braids, weaves and extensions, updos, precision cuts, creative color techniques and much more. With over 20 years of combined experience in the industry, Queen Bee's Design Team has been featured in several Hair Styling magazines including Flava!, Platinum Styles and six volumes of Ohio City Trends.
All of our stylists are licensed independent contractors that set their own prices and offer client products and services of their choice..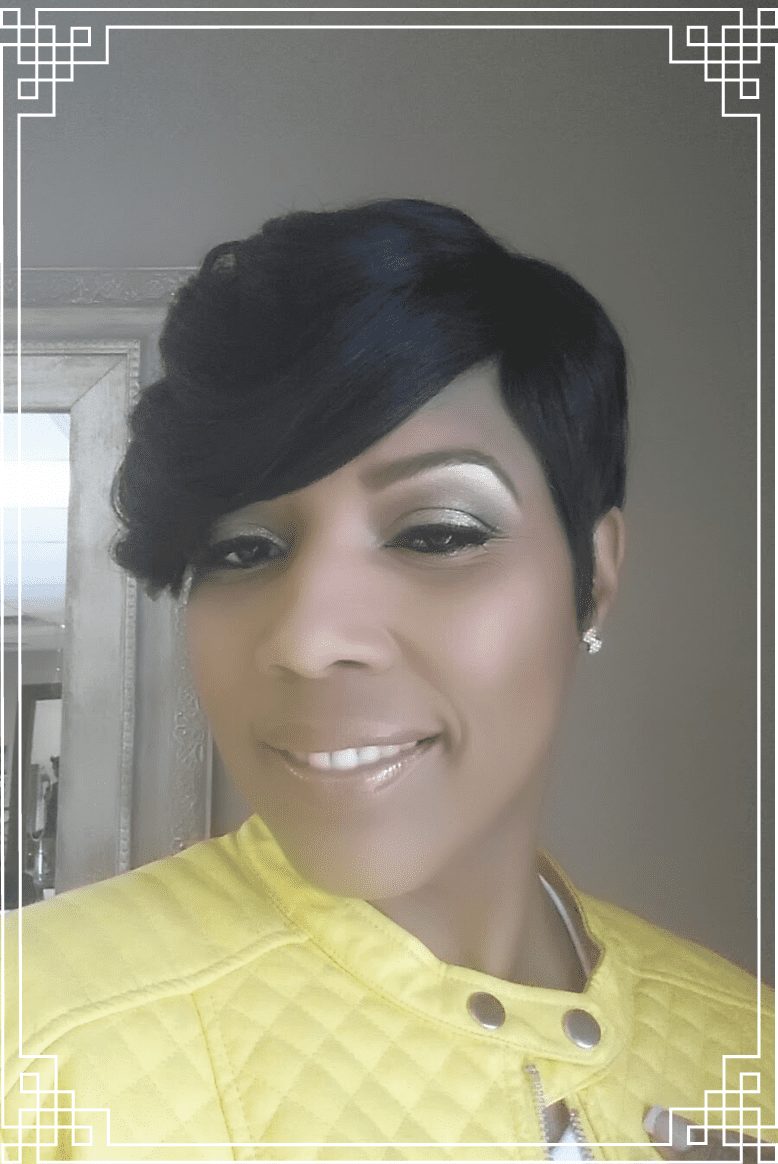 Dominique Shannon "The Queen Bee"
A native of East Cleveland, Ohio, "The Queen Bee" began her professional journey in the hair industry in 1993 at The Ohio State School of Cosmetology. Excelling as a scholarship student in beauty school, she continued her studies at The Ohio State University, graduating with a Bachelor of Arts in Communication and spent several years as a cosmetology instructor before opening Queen Bee's Beauty Salon.
It was during her college years at OSU that she saw a real need for an African-American based salon on campus and followed her dream. After twelve successful years on campus, her salon expanded in 2012 to Queen Bee's Royal Hair Gallery, with its new location just a few blocks away, in Columbus' historical Old North Community.
With over 25 years of experience in the industry, she has a great passion for hair and making people beautiful. In 2015, she became a Mayvenn Certified Stylist, launching a full retail line of top quality virgin hair extensions in 8 different textures, various origins, lengths and colors, expanding her clientele in the weaving market exponentially. Her continual education while traveling in the US and worldwide keeps her motivation strong and her techniques up to date.
In the salon, she strives to create an environment in which her clients are at ease to express themselves and their ideas. Her number one goal is for clients to be confident and satisfied with their hairstyle. She specializes in precision cuts, updos, all relaxed styles, weaves and extensions and is currently accepting new clients.
Direct Contact: (614) 537-5292                                    queenbeesbeauty@gmail.com
Danielle Curd
"The Natural Stylist"
LOCTICIAN & NATURAL HAIR EXPERT
Professionally known as "Dani the Natural Stylist", Danielle was trained at The Ohio State School of Cosmetology, graduating in 1998. She started her professional career as a licensed assistant at Knapps, Kinks, n Bebe's, where she developed a love for natural hair care, deciding then to make it her specialty.

She furthered her training in the field, mastering all areas of African-American natural hair care, then took the tools and knowledge she learned to Queen Bee's Royal Hair Gallery in 2001, where she started developing a reputation and large clientele. She is well known as one of the premier natural hair stylists in Columbus, and leads workshops and training seminars to educate men and women about healthy, natural hair care. Her professional work has earned her trophies and accolades throughout the city as well as features in nationally acclaimed hair shows.

Dani believes that all natural hair is beautiful, living by the motto, "Happy to be Nappy," and enjoys helping people to see their own beauty in having natural hair. "It is not necessary to conform to what others see as beautiful, but find what makes you feel happy, beautiful and confident. That's what natural beauty is all about."
Direct Contact: (614) 323-8115 
 gladtobenatural@gmail.com
Naba was born in Dakar, Senegal where she developed her gift of braiding very early in age. After completing training in her native country, she began braiding professionally in Senegal in 2000, then ventured to the United States in 2002. She was licensed and trained In Florida in 2009 before launching her career as a stylist in Ohio.

Joining the Queen Bee's Design Team in 2014, Naba's career as a stylist has catapulted, making her one of the leading licensed African braiders in the city.
In the summer of 2019, she was featured in the Columbus Dispatch, and shared her journey as a professional stylist and native who has gained tremendous success as a braider in the United States.

She loves braiding hair and takes pride in her work. Naba specializes in micro braids, senegalese twists, box braids, cornrows, and all areas of African braiding techniques."
Direct Contact: (614) 571-5689 Naba423@gmail.com
INSTA LOC SPECIALIST
NATURAL STYLIST | BARBER
Macoiya, affectionately known as "Coy" by her friends, has dreamed of being a stylist since she was a little girl. Finding it to be a great way to express her creativity, she soon realized that it was an opportunity to make a great career and decided to follow her passion.
Loving having the ability to make her clients feel great, she began her career specializing in men's haircuts, quickly advancing in that field. She then served several years in salon management and obtained a cosmetology instructor's license while mastering her craft as a natural stylist.
She is currently one of the only stylists in central Ohio that specializes in Insta Locs, and intricate natural extension service that allows you to have dreadlocks in just one day.
She is currently accepting new clients and provides services in all areas of men's hair care, loc maintenance and repair, silk pressing and natural hair care maintenance.
Direct Contact: (614) 680-7102        macoiyajmckinney@gmail.com